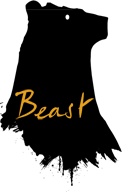 NOT FOR THE FAINT-HEARTED
Behold Beast – London's brilliantly audacious fine-dining restaurant, serving Norwegian King Crab and hand-reared beef in a subterranean banquet hall.
Beast's bold new approach required a bold artistic concept. We were commissioned to develop the entire restaurant space – the large sculptures inside and out, the frames and artwork adorning the walls, even the place settings and air vents.
SCULPTURE ONE
THE BEAR
Mighty and foreboding, the Bear is one of our most enigmatic creations. Set in Rococo bronze and looming 9ft tall, this monolith greets every diner who enters Beast. They tend to tip well.
A number of traditional and contemporary processes were used in the production of the Bear. The sculpture began as a series of original illustrations, which were 3D-mapped and modeled in the studio. A mixture of 3D printing and claywork produced a cast – which was then used in the final bronzing to produce the beast. Like the real thing, this burly bear weighs a full tonne.
SCULPTURE TWO
THE JAWS
The Jaws overlook Beast's outdoor dining area and cigar garden. They were 3D-modeled and cast in resin before being set in bronze using the classical 'lost wax' technique.